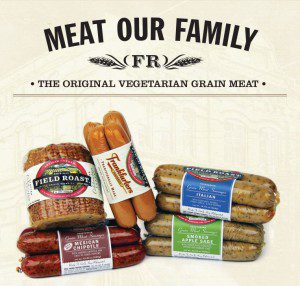 When you ask us about what we do, what Field Roast is, or how we make our products, we always say we make meat.  Then we qualify that statement with "vegan meat" or "wheat meat".  Wheat love and meat culture is at the center of our brand–it is precisely why we do what we do, and how we do it.  Let's break that down.  Our pride comes from making food with a culinary tradition.  We create foods with real ingredients that literally have roots, and that have a tradition themselves.  We use a process that was born in the butcher shops of Europe centuries ago when smoked charcuterie was a way to preserve food.   Our work creating vegan charcuterie is echoed now in standalone storefronts in Toronto and Milwaukee, which is gratifying and affirming.  After 20 years of pounding the pavement selling our wares to chefs and buyers across the country who are looking for "meat alternatives" and "fake meat", we have finally seen the birth of the vegan butcher shop.  Shoppe if you like.  The vegan landscape is shifting so quickly and so fantastically it makes us so proud to be part of its evolution, and possibly part of that inspiration.
In the ever increasing cacophony of buzzwords used to describe vegan food, there is finally reclamation afoot.  Meat.  That word?  That is Field Roast.  Our friends in the industry are joining us in doing what we all must do.  Use the word meat to describe foods that provide protein and fat.  To arrive at the center of the plate and be called "faux" or "lesser" is defeat.  Delicious vegan meats and cheese are nothing less than the ultimate advocacy that will keep changing the world to a more sustainable food supply.
We know that saying "vegan meat" is not an oxymoron, nor is saying "animal meat" redundant.  We are in the midst of a very beneficial shift in perspective right now.  Even if you are a self proclaimed carnivore, then you can eat vegan meat too, it's for everyone.  In a generation, the words grain meat will feel more like soy milk coming off the tongue.  If plants equal protein, we are doing the work that will possibly save the planet.
Join us in this new vernacular for the vegan meat you eat.  Help to create this reality with your words and contemplate the new normal that is emerging.  Next up?  Meat farmers…you know, those people who grow wheat for the meat you eat.