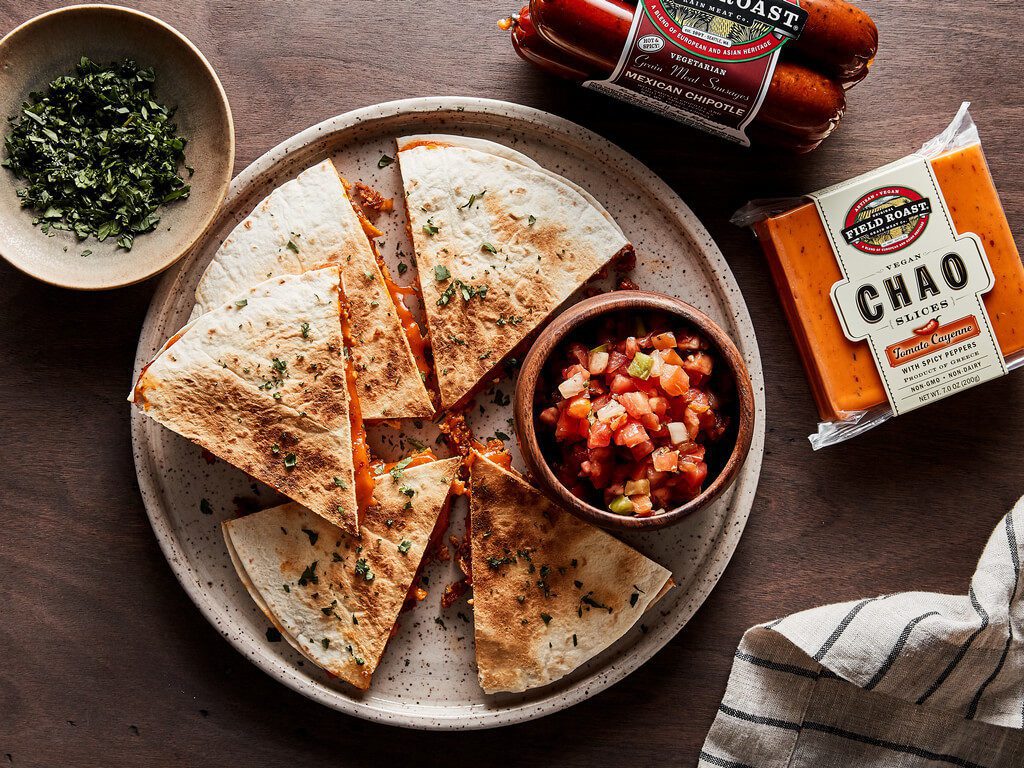 Chao slices melted over a crumble of Field Roast Mexican Chipotle Sausage, sautéed with onion, spices and scrambled tofu, placed inside a quesadilla.
Print Recipe
Ingredients
1 Field Roast Mexican Chipotle Sausage
2 Field Roast Tomato Cayenne Chao Slices
1 cup Firm tofu, crumbled
1/4 cup Yellow onion, diced
1 TBS Oil
1/4 tsp Cumin
1/8 tsp Oregano
1/2 tsp Garlic, chopped
1 large Flour tortilla
2 TBS Fresh salsa
1 sprig Fresh cilantro, for garnish
Directions
Sauté onion in oil until translucent, add spices and garlic and cook until just fragrant. Add sausage and cook until browned, about 5 minutes. Add crumbled tofu and stir until incorporated into sausage/onion mixture.
Prepare quesadilla by Chao Slices over tortilla. Place tortilla on a sheet pan beneath a broiler until cheese melts. Place sautéed sausage/tofu mixture on half of the tortilla and fold in half. Garnish with fresh cilantro and salsa.