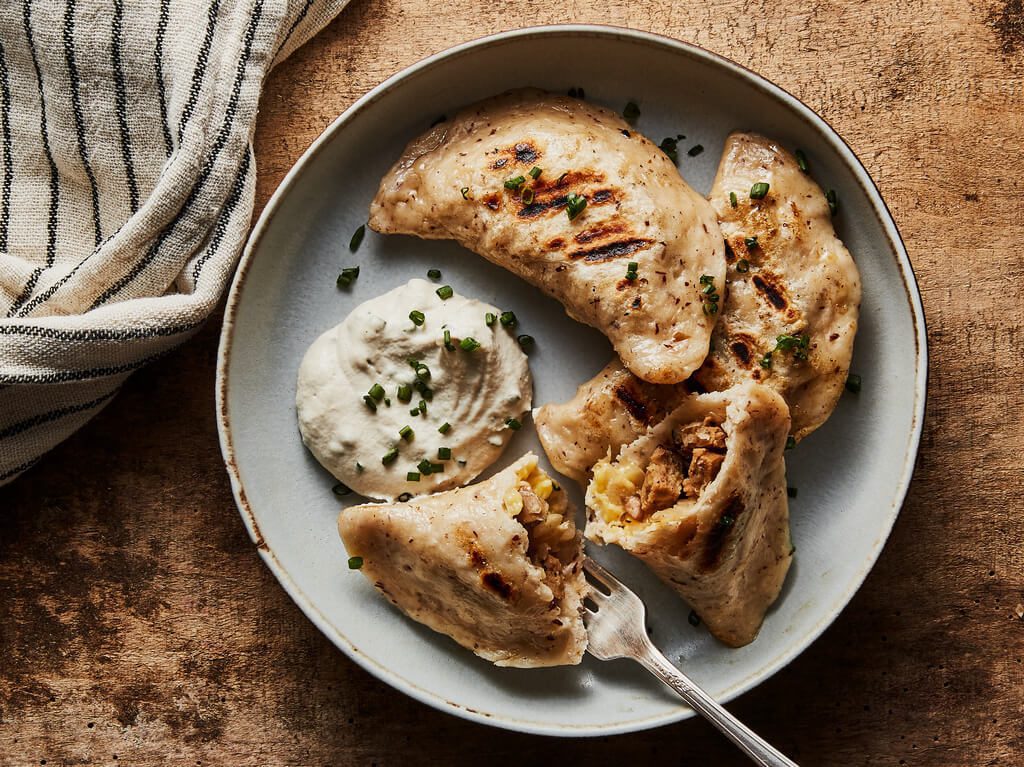 Pierogies are traditionally stuffed with potatoes and cheese, boiled and then fried. Our
Cooks In The Field
Grill Master
Adam Rosen
likes to shake things up and throw them on the grill instead.
Print Recipe
Ingredients
For Filling:
1 package Field Roast Italian Sausage
2 Large onions, quartered
8 oz Mushrooms, halved
Shredded vegan cheese (optional)
For Dough:
3 cups All-purpose flour
1 cup Water, plus 3 tablespoons
½ tsp Salt
1 TBS Ground flax seed
For Glaze:
2 TBS Dijon mustard
2 TBS Apple cider vinegar
For Chive Cashew Sour Cream:
1½ cups Cashews, soaked and drained
½ cup Water
¼ cup Lemon juice
½ tsp Salt
1 bunch Fresh chives, chopped
Directions
Grill the Field Roast sausages on an oiled grill grate.  Rotate until all sides are charred. At the same time, grill the onions and mushrooms in a grill pan until charred.  The onions will take a little longer than the mushrooms. Once the sausages are cooled, chop into small pieces and set aside.
Meanwhile, prepare the dough.   In a large bowl combine flour, 1 cup of water and salt.  Warm the remained 3 tablespoons of water and mix with the flax.  Add to the bowl and knead.
Roll out the dough until very thin (should be about ¼ inch thick).  Using 4-inch cookie cutter (or a martini glass) cut out circles of dough. Meanwhile, prepare a large pot of boiling water.
Place 2 tablespoons of the filling in the center of a dough circle. Top with a sprinkle of vegan cheese (optional). Fold in half and pinch closed.  Use little water on your fingertips if they don't stick. Repeat. (Style points: take a fork and press into the edges for a nice design!)
Drop a few of the folded and sealed pierogies into the boiling water.  Don't crowd the pot.  Boil for 5 minutes or until they begin to float.  Remove from the boiling water with slotted spoon. Repeat.
Spray the pierogies with a little cooking spray and place on the grill.  Cook each side for about 2-3 minutes.  Brush the mustard/vinegar glaze on before flipping.
Meanwhile, place all the ingredients for the sour cream except the chives in a blender.  Blend until smooth.  Fold in chives.
Serve the grilled pierogies with a dollop of the chive cashew sour cream and your favorite hot sauce.