Field Roast in Canada
By Admin
Hi Friends,
Thank you all for the outpouring of support over the last couple of weeks. We have been overwhelmed with the response from our friends and customers! You may have heard that Field Roast has ceased distribution in Canada and we appreciate your patience as we answer questions and address your concerns.
We are working with the Canadian Food Inspection Agency (CFIA) and Health Canada to address their concerns about Field Roast regarding their current regulations. The regulations rule that we are making a "simulated meat product" and need to add this language to our labels. The standards for a "simulated meat product" require a Protein Efficiency Ratio (PER) study (conducted using live animals) to evaluate the protein in relation to animal meats. [update: there is an approved alternative method for testing that does not involve animals.] A PER study has not been done on vital wheat gluten, yet we are making a protein-rich vegetarian sausage entirely from wheat (and vegetables and real ingredients!). Other companies may be making vegetarian meats using vital wheat gluten alongside soy or other recognized proteins with PER results. Furthermore, we would need to add chemical supplements and vitamins to our product to meet these regulations, which would stray from our purpose of making a real meat without animal products or additives. As a company, we believe there is a fundamental bias that exists in these regulations; one that holds animal proteins as the standard of all meats. Therefore, it is not a simple fix.
Field Roast President David Lee recently visited Toronto's Vegetarian Food Festival with information about our current situation, where he received a tremendous amount of community and consumer support. He was back in Toronto for the CHFA East trade show last weekend and is now working with some folks in Ottawa to explore our different options moving forward. We absolutely love our Canadian customers and hope to continue offering our products. Again, we thank you for your support.
The feedback and questions have been overwhelming for our team, and it will be easiest for us to update everyone via email about Field Roast in Canada. If you would like to be updated, please sign up for our "Field Roast in Canada" mailing list here.
Best Regards,
The Folks at Field Roast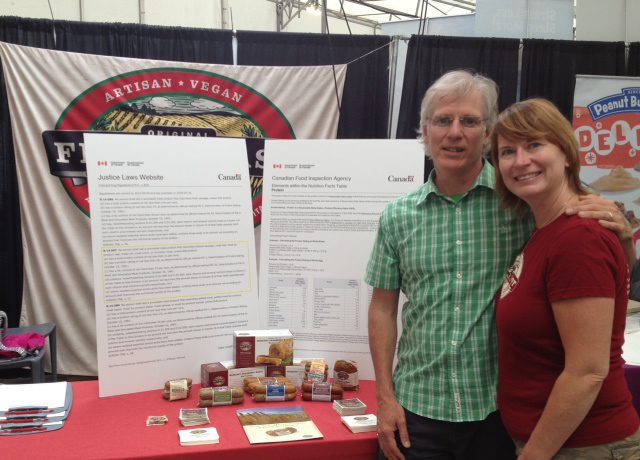 This entry is filed under Field Roast, Product Highlights and News, Community, Events and tagged vegan, vegetarian, field roast, David Lee, canada, CFIA, field roast in canada, wheat protein.