"Cooks in the Field" Spotlight: Joy Martin, Urban Foodie
By Fieldroaster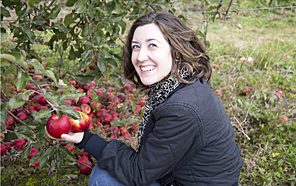 In our "Cooks in the Field" search for an Urban Foodie, a connoisseur of food trends and fusion cuisine, we were lucky to find Joy Martin. She won us over with her Larb (Laotian Minced Meat Lettuce Cups) recipe.
Joy is the creator of Braisen Woman, a vegan recipe blog for foodies of all dietary descriptions. She fell in love with cooking when she transitioned from "meat-loving-midwesterner" to "passionate vegetarian" and realized she had NO IDEA what to make for herself. Cookbooks were purchased, recipes were made, and a love of plant-based foods was born. Seven years later, Joy is a cook, recipe developer, and blogger dedicated to bringing exceptional vegan food into as many homes and kitchens as possible. She lives in Seattle, WA with her boyfriend (Daniel), her chihuahua-terrier mutt (Linus), and the coolest cat ever (Leon).
Stay tuned in the months ahead to see what other tasty recipes come out of Joy's kitchen!
A quote from Joy, our Urban Foodie:
"[It is] my belief that high-quality, inventive, flavorful cuisine and "vegan food" are not mutually exclusive. I love translating food trends and de-mystifying veganism through accessible, exceptionally delicious vegan recipes with strong flavor profiles and global influences. From street food, to local ingredients, to modern reinventions of time-worn classics, I bring the pulse of the foodie universe into the kitchens of home cooks everywhere."
This entry is filed under Field Roast, Recipes, Community, Events and tagged vegan, Field Roast contest, cooking, community, field roast recipe, grill master, urban foodie, healthy homemaker, vegan recipe, cooks in the field.