"Cooks in the Field" Spotlight: Adam Rosen, Grill Master
By Fieldroaster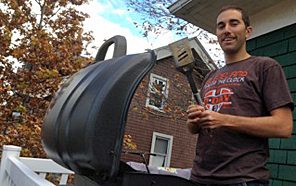 Adam Rosen, the winning Grill Master of our "Cooks in the Field" recipe contest is certainly a whiz at the grill. We whipped up his Mexican Chipotle Mushroom Boomer recipe in the Field Roast office last Friday and they were a hit!
Adam (@osuadamr) is a soon-to-be attorney in Cleveland, Ohio and a vegan blogger at HoldThePigskin.com (@holdthepigskin). As an avid football fan and grilling aficionado, a vegan tailgate was only natural. Despite the animal meat-centric culture in the parking lot, he holds it down for all the vegans who want something more than chips and salsa. When he's not grilling, Adam is active in the Cleveland young professional community, competes in triathlons, follows Cleveland and Ohio State sports and spends time with his family and awesome vegan girlfriend.
Adam will be grilling Field Roast products throughout the seasons in creative ways and we look forward to sharing his recipes with you!
A quote from Adam, our Grill Master:
"I really got into cooking after college and like many guys my favorite thing to do was grill. Combined with my love for football tailgating came naturally. Walk through any pre-game at a college or pro football game and see the displays put on by veteran tailgaters. There is so much pride in what they do; one could argue it's the ultimate eating experience in America. Meat often takes center stage. Unless you feel like eating chips and salsa, vegans are left out in the cold. I'm here to say it doesn't have to be that way!"
This entry is filed under Field Roast, Recipes, Community, Events and tagged vegan, Field Roast contest, cooking, community, field roast recipe, grill master, urban foodie, healthy homemaker, vegan recipe, cooks in the field.