"Cooks in the Field" Spotlight: Sarah Creighton, Healthy Homemaker
By Fieldroaster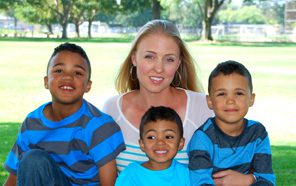 We are pleased to introduce Sarah Creighton, the Healthy Homemaker winner of our "Cooks in the Field" recipe contest. Her Linguine Alla Checca recipe wowed us with its simple and tasty flavors.
Sarah, founder of Veggie-Kids.com, is busy raising her three vegan boys in the San Francisco Bay Area. She is the author of "The Boy Who Loved Broccoli", an elementary school teacher and a children's health advocate, working with a team to "clean up" the public school lunches in her area as well as getting an edible garden growing at her kids' school. Veggie-Kids.com offers a free Vegan Starter Guide and features 100% vegan, family-friendly recipes which promote healthy eating.
Don't forget to check back to see what other family-friendly recipes Sarah cooks up!
A quote from Sarah, our Healthy Homemaker:
"As a vegan food blogger and mom of three growing boys, I am truly passionate about spreading the veggie love! I enjoy cooking healthy, family-friendly, plant-based recipes for anyone who is willing to try them and I encourage people to eat more nutritious meals."
This entry is filed under Field Roast, Recipes, Community, Events and tagged vegan, Field Roast contest, cooking, community, field roast recipe, grill master, urban foodie, healthy homemaker, vegan recipe, cooks in the field.