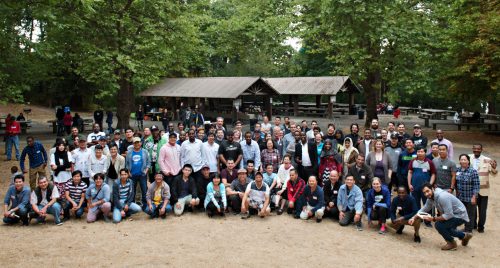 Field Day Company Picnic 2017!
By Admin
Every year since 2011, Field Roast has gathered as a company in a local park to play together. Our first year, we had a family-focused picnic complete with a pinata and music. It was a casual affair with about 30 of us total. Every year since, we have gotten bigger…and a little more competitive in our day of play.
Our President David Lee originally came up with the idea to have a proper Field Day like in elementary school. Some of us remember this day, for better or worse, and it has been an awesome experience to get to know our coworkers in this way; as teammates mixed between departments and having some fun together, while on the clock!
So for the past few years, we divided into teams, printed t-shirts in one color for each team and organized games that all employees could play. We even had an official referee and rented school buses to take us to our secret location!
This year, having grown so much, and with our production schedule so full, we opted for something simple, like the first Field Roast Field Day. We rented a shelter at a local park, grilled up some FieldBurgers and Frankfurters, set up a badminton net and got some huge bubble wands and an airbrush tattoo painter. We invited our families to join us for a relaxed afternoon together as a whole company. It was such a success on so many levels.
What inspired and delighted us the most was that there was an outbreak of unscheduled playful activity, lots of smiles and even an intense impromptu karaoke session. We are a diverse group of people, representing over 20 countries and ages ranging from early 20s to early 70s. And when we come to work each day, we count on each other to create a workplace culture that is friendly and fun.
Those who play together, stay together. Thanks for reading!
This entry is filed under Community, Foodmaker Pride.