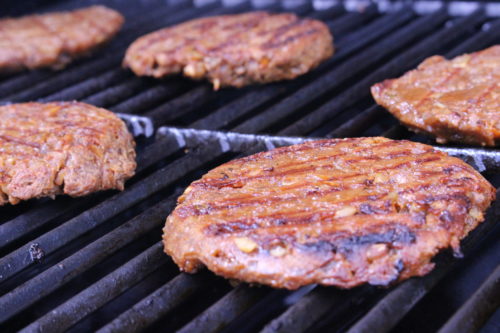 Food Makers Guide to the Veg Grill
By Admin
Weekend plans include iron and fire?  We love Field Roast on a grill and fired ours up the other day in our parking lot!  It was a grey day in Seattle, but that is certainly no reason to be deterred!  We served up all these on buns with some fresh veggies.  Chips on the side, and the break room full of FR folks was happy!
Here is our starter level tips list:
Heat the grill up before you load it up.  You'll get a nice sear on the surface and the caramelized crispy bits taste awesome.
Use a grill basket or foil to cook veggies or smaller items like onions or potatoes.
Don't mention your BBQ will be vegan, and see what happens.  Serve up kabobs, grilled fruit like watermelon, peaches and pineapple, and don't forget Field Roast FieldBurgers with Chao Slices, Sausages, and Frankfurters.
Use a steam tray for the Frankfurters if you are going to have them on the grill for a while, then hit them on the grill to order.  They will be plump, juicy, and delicious.
Keep the condiments simple.  Food bar style condiments are fun, but a lot of work.  If you really want a ton of toppings, consider a BBQ topping potluck so your guests can have fun sharing their favorite condiments!
So now it's your turn.  We want to hear from you!!  What are your hacks and favorite grill tips?  If you come up with something that knocks our socks off, we will send you a prize pack for you to have another BBQ!
Post your Memorial Day grill on Instagram or Facebook with your tip, tag us @fieldroast and #vegangrills and enter to win a fantastic Field Roast grilling kit!  It will arrive just in time for your Independence Day shenanigans.  Have a great holiday weekend!
This entry is filed under Special Occasions, Vegan Grill and tagged field roast, Field Roast contest, vegan food, grain meat, sausages, Veggie dog, Frankfurters, grill master, FieldBurgers, Field Roast Grilling.