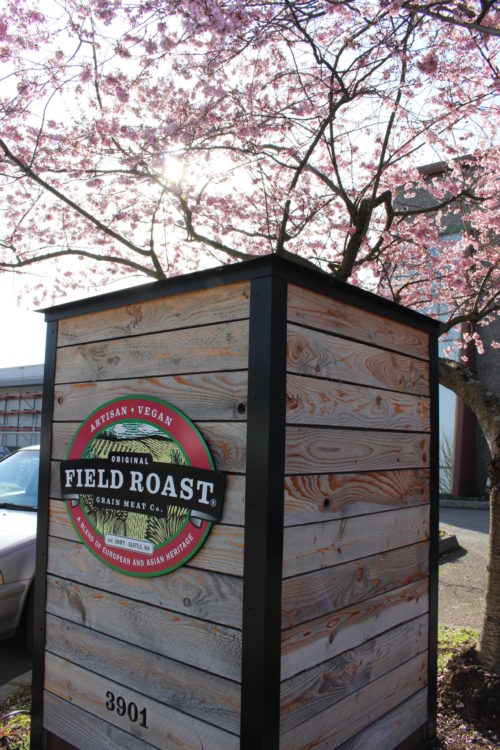 Connection and Culture
By Admin
Last week there were not enough chairs for our Community Meeting.  And lately our parking lot has been kind of full.
You might have noticed that you can get Field Roast just about anywhere these days.  We are so very excited about the interest in our products all over the country and beyond, and we are growing to meet that demand.  And so that is why we need all these people to make Field Roast, answer the phone, pay the bills, buy the produce, mix the spices, pack the boxes, build the pallets, contract the shipping, present to new customers, check the temp logs….you get the point.
We are, after all, a DIY company.  Still owned and operated independently by our founder and several awesome and talented people that are part of the business, not just running it.  We all work together in a single facility, eat lunch in shifts together, and come through the same front door in the morning.  So our culture of connection continues to be very much on our minds, and top of the list when it comes to growing pain concerns.  As we get bigger, I wonder, how do we keep close, and also make the literal tons of Field Roast appear like magic on the shelves wherever you shop?
Our answer right now?  Community meeting.
Every month on the third Tuesday we come together, share what we are working on in each department, talk about our victories and concerns, celebrate employees anniversaries and birthdays, introduce new employees and just simply BE together.  This is so wonderful.  The feeling in the room is palpable.  When we have connection like this, things happen…because we know each other, hear each other and generally make room for the process of our growth to unfold.  That looks different every month, and we are learning each month what more that can mean.
This entry is filed under Field Roast, Community.