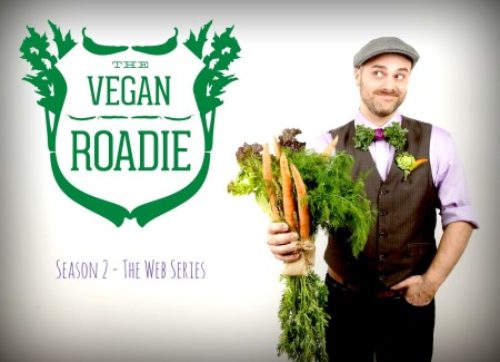 The Vegan Roadie and Field Roast!
By Admin
The news is out and we love what The Vegan Roadie is doing!  We met Dustin Harder while he was in town last summer, since then we've enjoyed dreaming of a way to collaborate, and behold!  We are partnering up with the Vegan Roadie Season 2!
Continuing his quest to create a road map and resource for vegans and veg-curious alike, Dustin Harder is hitting the road again in search of even more chefs, restaurateurs, and business owners spreading the plant-based love. The popular YouTube series has been compared to Food Network's "Diners, Drive-In's & Dives"…hold the bacon.  As the appeal for meat-free dishes expands, Dustin delivers quality programming showcasing mouthwatering plant powered eats from around the country. Harder also cooks up meals in his hotel room to keep the weary vegan and vegetarian traveler satiated in any circumstance with his signature "5 Ingredient Challenge." A personal vegan chef and graduate of The Natural Gourmet Institute in NYC, Dustin pairs his culinary knowledge and insight with his experience visiting over 200+ vegan restaurants in Season 1 to make every "5 Ingredient Challenge" recipe a home run!
The most exciting addition to Season 2 is that Dustin and his cameraman Drew will be traveling in a van donated and designed by us, The Field Roast Grain Meat Company!  In addition to filming brand new episodes for Season 2, Dustin will now have the opportunity to stop in cities across the country to serve up Field Roast products for free to the public.  Who doesn't love a free cookout??  Help Dustin reach his Kickstarter goal so he can hit the road starting in Seattle this April!
This entry is tagged veganroadie, dustinharder, 5ingredientchallenge.