You are invited to our Open House BBQ!
By Kiley
Our first month at the new Field Roast building has flown by as we settled into the offices, fired up the new production facility and prepared for the launch of our Field Roast Burger! Nothing would make us happier than to share this all with you, so you are officially invited to our Open House BBQ on Friday June 27th to celebrate the new space and burger launch! Between 2pm and 8pm we will be grilling up Field Roast Burgers, touring the new building and raffling off goodies. Join our Build-a-Burger Challenge for a chance to win a year's supply of Field Roast Burgers! Dress your burger with your own concoction of fixings, name it and show it off in the photo booth. You can even get real fancy and bring your own homemade fixings to top the others.
We have also invited our friends, Seattle Cookie Counter, who have started a Kickstarter campaign to  launch their vegan ice cream sandwich truck in Seattle. They will be camped out at our BBQ, handing out delicious ice cream treats. Want to support them? Make a pledge! We want delicious vegan treats and good people roaming our city.
RSVP on Facebook: Field Roast Open House BBQ Celebration!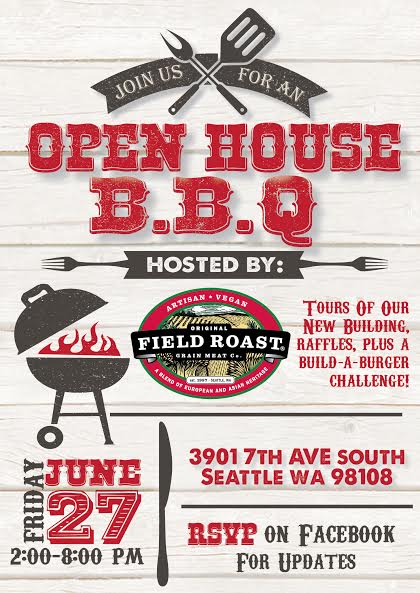 This entry is filed under Field Roast, Community, Events and tagged vegan, vegetarian, field roast, seattle, bbq, community, field roast burger, Sodo, open house, photo booth, grand opening, seattle business, seattle cookie counter, kickstarter, seattle ice cream, vegan ice cream.