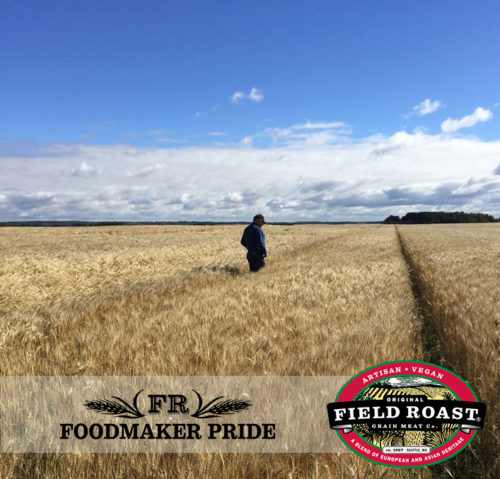 A quiet field at harvest time
By Admin
There is nothing like standing in a grown wheat field.  The wind rustles the field as it waves glistening in the sun on a late summer day.  Just before the harvest a hush comes to the land and fortifies the plants with their last breath of fresh air.  We buy our grains from farmers who know the gifts of our blessed wheat and their place in our history as foodmakers.  Our wheat is grown in Alberta, Canada by folks like Jim, pictured here.
We love wheat. The heart of our products is our quality wheat flours.
Following the traditional art of making seitan, we start with a wheat flour that is rich in protein and, after being mixed with our fats and spices, is steamed to create a meaty bite that truly satisfies. We know our foods are nourishing you, as well as the farmers that grow our grains and produce.  Incorporating other grains like barley, pulses like lentils and fresh vegetables is another way we know Field Roast products show you our values.
These whole sources of food from quality growers give our grain meats their unique and bold flavors. Brought to us by trusted partners in foodmaking, we take pride in our ingredients, as we do in our foods. Conscious sourcing is another example of what we call Foodmaker Pride.
This entry is filed under Field Roast, Community, Field Roast in Canada and tagged field roast, grain meat, wheat protein, we love wheat, Foodmaker's Pride.