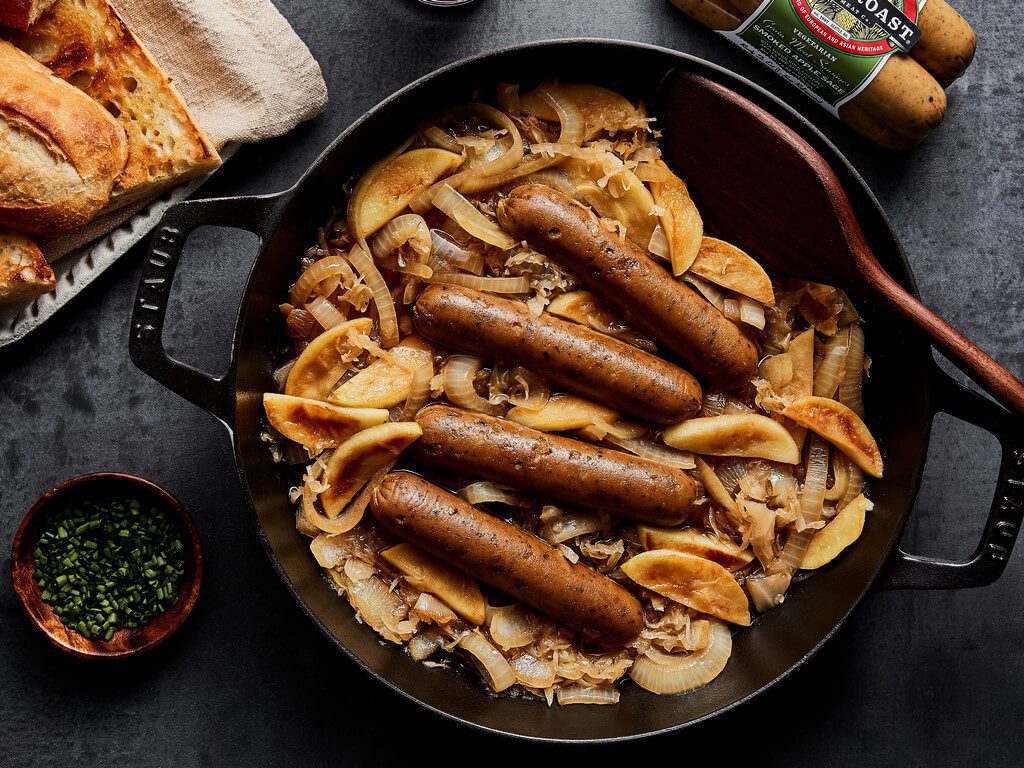 The perfect dish to roll in Oktoberfest...or for whenever you are just craving a good old fashioned grilled sausage.
Print Recipe
Ingredients
1 Crusty baguette, cut into 4 sections
1 Large yellow onion
1 Granny Smith apple, peeled
2 TBS Stone ground mustard
8-10 oz Sauerkraut
16 oz German lager beer
3 cloves Garlic, minced
4 Smoked Apple Sage Field Roast Sausages
.25 oz Fresh chives, minced
1 TBS Safflower oil
Directions
Slice apple and onion in ¼ inch thick slices. Add to sauté pan over medium heat with oil, stirring occasionally, but allowing the onions and apples to brown on the pan. Once you have added a bit of color to the apples and onions, add garlic cloves, mustard, and sauerkraut. Cook over medium heat until moisture from sauerkraut has evaporated. Reduce heat to medium low and use half the beer to deglaze the pan. Allow to simmer.
In a separate pan, or on the grill, sear each sausage, then place into the pan with onions, apples and sauerkraut.
In a warm oven, lightly toast each section of the baguette. Fill baguette with vegetable mixture, then top with a sausage and finish with minced chive.