Field Roast Awarded Company of the Year
By Kiley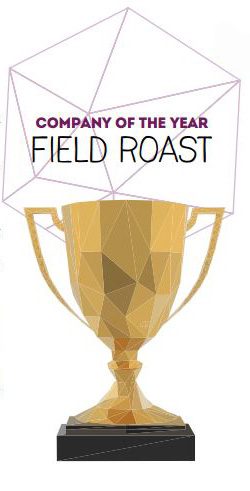 VegNews Magazine has named Field Roast the 2015 Company of the Year in it's recent December Issue – Thank you to everyone who voted during the 2015 Veggie Awards, and thank you to everyone at VegNews! This occasion allows us to pause and reflect, not only on the great products we're able to create but on our growth as a company and family.
Although we've been doing what we do since 1997, this year has been an eventful one. In 2015, Field Roast became recognized as the first true vegan meat and cheese brand. October marked the one year anniversary of Chao Slices. We settled into our beautiful new building in South Seattle and had room for many wonderful people to join our family. We welcomed two new babies, celebrated over 90 birthdays, and sadly grieved the first loss of our friend and long-time employee. Together, we not only create products but experience life.
Products & People First.
Field Roast is a product-driven company. It started with the idea of making a better quality, accessible vegetarian product. Almost 20 years later, we are still creating products that challenge the old assumptions that only certain people eat vegan food.
We are food makers first; everything else comes second. We don't sacrifice the values our company was built on, because they created our food, our community and our growth. Our people stay true to the belief that there is dignity in making food.
Our Values:
We value simplicity and authenticity, in our products and in our actions.
We value the experience of working in an environment that respects our diverse roles in society and within our company.
We value the right to live in peace and to express our individual principles (as long as they don't cause harm to others.)
We value our relationships with each other; our environment, our community, our employees, our customers, our vendors, and our shareholders.
The Field Roast family is grateful to be recognized for all the hard work and commitment given to the growing consciousness of vegan food. We will remain "Company of the Year" as the years fly by and hope you continue this journey with us!
– The Folks at Field Roast
This entry is tagged field roast, seattle, veggie awards, company of the year, vegnews magazine, vegan company, vegan meat and cheese.