A "Cooks In The Field" Exclusive: Adam Rosen
By Admin
Every month, we share new recipes from the three "Cooks In The Field" that won our recipe contest last Fall. We are all familiar with their cooking styles by now: Adam Rosen is a tailgating grill master, Joy Martin is an experimental urban foodie and Sarah Creighton is a healthy homemaker for her husband and three children. But how did they fall into these roles? What do we know about them? Well, since they bring new ideas to our kitchen tables each month, they are like family. So we interviewed each of them to give a little insight into their culinary-inspired lives. You can continue to enjoy his recipes on our website and facebook page, but here you can get to know Adam Rosen: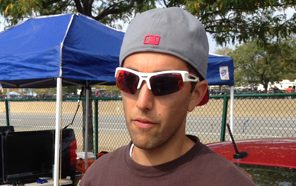 How does your passion for cooking relate to being a Grill Master?
"I developed a bit of a reputation for being a grill master back in college. Of course, I was grilling things I no longer eat, but I loved getting creative with sauces and techniques in ways that still shine through in my recipes today. There is something magical about cooking over an open fire. Something primitive and rhythmic about starting the coals, waiting for it to reach perfect temperature and cooking until it's just right. The flavors are so complex and the possibilities are endless."
What inspired you to explore vegan cooking and start your own blog?
"My personal trainer back in 2009 got me thinking about what I put into my body. He told me to shop around the edges of the grocery store and eat less processed foods. As I began to see results, I started asking more questions. One thing led to another and my new year resolution for 2010 was to go vegan for a month under the guidance of Rip Esselstyn's Engine 2 Diet I felt incredible and never looked back. Hold The Pigskin started because I felt plant-based foods were left out at cookouts. I am a big tailgater and I was pretty sure I operated the only vegan tailgate at the muni lot at Cleveland Browns games. Cleveland is a real meat and potatoes town and the vegan tailgate was against the grain. Any time you have a niche like that it's time to start a blog! My search of the internet came up empty so I figured I was starting the first dedicated vegan tailgate blog in history. 2 years later I feel like the idea still has tons of room to grow."
What was your biggest challenge with switching to a vegan diet?
"Switching to a vegan diet put me out of my comfort zone. I had to learn how to say no, ask for substitutions and be a pest. If it were just me living in a bubble, the switch wasn't that bad. I felt great and I will always keep doing something if it makes me feel good. The biggest challenge was social. Having to explain myself to blank faces, turning down food without being disrespectful and trying to fit into a world in the extreme minority. Over time, I have embraced this challenge and love talking about being vegan. My brother calls me a "flaming vegan" and that if I don't make my lifestyle known within 5 minutes of meeting you something is wrong. I am proud to say I turned my biggest challenge into one of my biggest strengths. People ask me for advice all the time on how to incorporate more plants based foods in their diets. Many people try the foods at tailgates and love them. Now all of my friends can say they know a vegan and it's not some weird thing to be afraid of."
What is your favorite ingredient to cook with right now?
"At the moment, I am obsessed with ginger. Its freezing in Ohio and ginger has this amazing warming capability. I put it in my kale protein smoothie for breakfast, in this ginger almond ranch salad dressing for lunch and sauté it in the Moroccan soup for dinner. I seriously can't get enough ginger right now. Plus it sells for $0.39/pound at the local Asian grocery, so the price is right."
What is your "go-to" dish?
"I have a go to dish for every meal of the day. I even have go-to snacks! Breakfast: kale protein smoothie with banana, strawberry, almond milk, pea/hemp/rice protein, flax, maca, spirulina, topped with chia, crunchy cereal and cocoa nibs. Lunch: salad with tons of chopped fresh veggies, chickpeas or tofu and homemade dressings. Snack: vegan protein bar and an apple with nut butter. Dinner has the most variation, but my go-to is stir fry."
Sweet or savory?
"Since becoming vegan I dropped the whole picky eater thing. If its vegan, I'll eat it. No questions asked. But I'm a savory guy. I think savory sometimes gets left out in the vegan world because people default to meats in their savory flavor profile. That's why I love Field Roast and other savory vegan foods. It's a challenge to be aware of that sixth sense, beyond taste, that is so complex."
Besides cooking, what do you enjoy doing in your downtime?
"I am a plant-powered athlete. This year marks my 4th season doing triathlons. I also picked up CrossFit as a way to get stronger year round. In addition to my athletic endeavors, I love following my Cleveland sports teams and Ohio State. Anytime there is a tailgate, I'm there! I'm also the only 4-time champion of my fantasy football league.
I love getting involved in my community. I'm on the board of several local nonprofits, am a member of the Downtown Cleveland Alliance City Advocates Program and Cleveland+ Social Media Advisory Committee. As a soon to be lawyer, I'm involved with a local Inn of Court and the Bar Association."
Finally, I have an awesome vegan girlfriend and we love spending time and cooking together. She runs a nonprofit called Drink Local Drink Tap that inspires individuals to recognize and solve our water issues through creative education, events, and providing safe water access to people in need and I support her endeavors in any way I can. I spend a lot of time with my family and friends down in Akron, Ohio, always cooking and spreading vegan cheer! Check out my exploits on Twitter and Instagram @holdthepigskin."
This entry is filed under Community and tagged vegan, vegan cooking, community, grill master, urban foodie, healthy homemaker, cooks in the field, adam rosen, recipe developement, interview, vegan tips.