A "Cooks In The Field" Exclusive: Joy Martin
By Kiley
Every month, we share new recipes from the three "Cooks In The Field" that won our recipe contest last Fall. We are all familiar with their cooking styles by now: Adam Rosen is a tailgating grill master, Joy Martin is an experimental urban foodie and Sarah Creighton is a healthy homemaker for her husband and three children. But how did they fall into these roles? What do we know about them? Well, since they bring new ideas to our kitchen tables each month, they are like family. So we interviewed each of them to give a little insight into their culinary-inspired lives. You can continue to enjoy her recipes on our website and facebook page, but here you can get to know Joy Martin: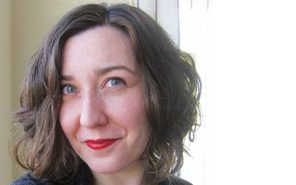 How does your passion for cooking relate to being an Urban Foodie?
"My favorite thing about vegan cooking is how it facilitates creative cooking. Choosing to forgo animal products forces you to re-imagine your plate and your palate. As a result, many vegans are adventurous eaters, experimenting with an incredibly broad range of ingredients and flavors. I love taking global influences and "hot" food trends and translating them into exciting and bold vegan dishes. Being an "Urban Foodie" is not about being a food snob – it's about being a food enthusiast."
What inspired you to explore vegan cooking and start your own blog?
"When I became a vegetarian 8 years ago, vegetarian and vegan eating was completely foreign to me. I was 21 and only knew how to cook a few things to begin with, so I started teaching myself how to cook by trial and error, learning as much as I could by reading cookbooks and exploring the internet. I soon discovered that I actually enjoyed vegan cooking more than vegetarian cooking, which often seemed to rely on copious amounts of milk and cheese for flavor. As I became a more confident cook, I started making up my own vegan recipes and fell in love with that creative process. A couple of years ago I decided to start sharing my recipes online and started my blog, Braisen Woman."
What was your biggest challenge with switching to a vegan diet?
"When I first went vegetarian I was a pretty voracious meat-eater, so the cold-turkey (haha) switch was a pretty dramatic change! I definitely missed eating my mom's meals. Learning how to cook for myself – without meat – was a challenge with the limited culinary skills I had as a 21-year-old college student, but I am so happy I dove in head-first."
What is your favorite ingredient to cook with right now?
"I am having a love affair with shitake mushrooms – I love their firm, chewy texture and earthy depth of flavor. They add a wonderful "meatiness" to vegan sandwiches, soups, stews, and stir-fries."
What is your "go-to" dish?
"I love making a big pot of soup on the weekend that I can eat for lunch all week. My favorites include Coconut-Butternut Squash Bisque, Creamy Pistachio Soup, and Broccoli "Cheese" Soup."
Sweet or savory?
"Oh, that's tough. My biggest weakness is carbs of either the sweet or savory persuasion… I believe a life without baked goods is no life at all."
Besides cooking, what do you enjoy doing in your downtime?
"I love thrifting (my mom and grandma taught me well), writing, exploring Seattle's ever-changing food scene, taking photos, and walking along Lake Washington with Linus, my rescued Chihuahua-terrier mutt."
This entry is tagged field roast, vegan cooking, urban foodie, cooks in the field, joy martin, interview, vegan tips, vegan diet, recipe development, braisen woman.