Hello Folks! Last week, a group of Field Roasters traveled to Anaheim, California for The Natural Products Expo West 2014. It was an exciting three days that we shared with many other amazing companies. Our booth was twice as large this year, so we anticipated the need for extra hands to serve up our brand new products!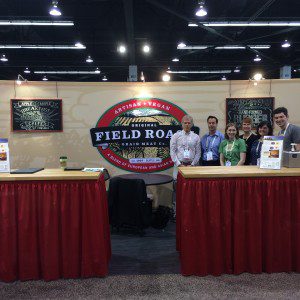 Thousands of Exhibitors were preparing for the weekend and I quickly realized there was going to be a lot of amazing people and products to discover. Upon visiting the Follow Your Heart booth, they kindly provided us with Vegenaise and Vegan Tartar Sauce to compliment our burgers over the weekend. Our friends at Upton's Naturals were downstairs sampling their italian seitan and being awesome. After wandering even farther I found the Strictly Vegan booth, and they happened to be taking a break to eat some Field Roast! The list goes on of fantastic products, companies and people.
Back at the Field Roast booth, we prepared our new Apple Maple Breakfast Sausages and Hand-Formed Burgers, which were both a huge hit! They were flying off the counter at record speed and we saw many faces throughout the weekend coming back for seconds, thirds….fourths. So, needless to say, our grills got a lot of play time. It was a proud moment on Sunday when VegWorld Magazine presented us with the award for "Best New Vegan Product" for our Hand-Formed Burger.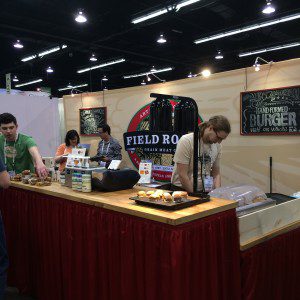 Each year we host a Field Roast Reception to celebrate with friends, old and new. This year, David prepared delicious Fruffalo wings for everyone to try. Our guests loved them, including The Vegan Zombie (see below). We look forward to seeing everyone again next year, as we are already signed up and have the booth picked out. Perhaps we will have new items to debut next year?
Thanks to everyone who paid us a visit at the show and to those who stayed in touch from home. Want to be a part of the buzz? Follow us on Facebook, Twitter and Instagram and share your photos, meals and thoughts with us.
This entry is filed under Events and tagged vegan, vegetarian, field roast, grain meat, community, Expo West, Natural Products Expo, Burgers, Fruffalo Wings, Food, breakfast sausage.