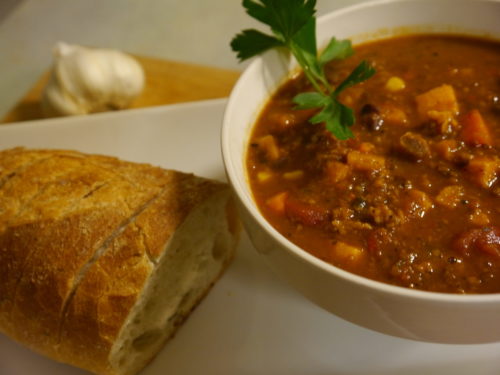 When it starts to get a little Chili…..
It's Fall, but as far as I'm concerned it might as well be the deep of winter. It is cold and rainy here in Seattle, and we're all hunkering down to brave the elements for the next few months. When I get to feeling like this, I take solace in the fact that it is now full on SOUP SEASON! A delicious chunk of the year to sip each spoonful of savory elixir, preferably wrapped up in a warm blanket, whilst the elements toil outside. What can warm someone more than a big hug of split pea, or a fireside minestrone? Over the next few weeks I'll try to share some of our favorites from the Field Roast Catalog, starting with Jackson Street's 5 Alarm Chili. This isn't your run of the mill canned stuff….. This is a stuffy nose bustin', icicle melting, tonsil scorching bowl o' grain based giddy up. If you aren't feeling nice and toasty after this one, check your pulse!
Check it out right here: https://fieldroast.com/recipe/jackson-street-5-alarm-chili/.
Tips: Freeze some of this! Chili works great for all kinds of things; chili over your tofu scramble for breakfast, chili dogs for the big game, smother your nachos in this tasty treat, and (shout out to Coach Tom!) chili spaghetti. Be mindful of how you handle these chilies, use gloves, or wash your hands after handling (don't rub your eyes). Also, to tone down the heat on this one, try removing the seeds, and membrane from the inside of the pepper before roasting.
This entry is tagged seattle, sausages, Chili Dog, Jackson Street, chili, soup, chipotle, Mexican Chipotle, spicy.